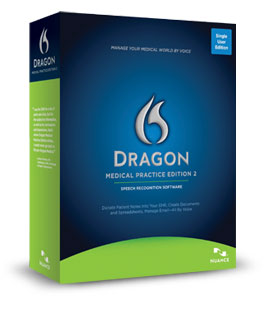 Dragon Medical Practice Edition 2
Turn speech-to-text three times faster than typing and produce more comprehensive and accurate patient records. Dragon® Medical Practice Edition 2 is the first line of defense for challenges associated with EHR adoption, allowing physicians to meet meaningful use criteria more quickly and increase reimbursement levels for a more profitable and rewarding practice.
---
Dragon Dictate Medical for Mac
Physicians who are loyal to the Mac platform can also enjoy the precision and ease-of-use that Dragon Medical speech recognition technology brings EHR adoption. Dragon® Dictate Medical for Mac brings best-in-class performance to Mac users who have come to expect superior results from their applications. The new Mac-based software is also the highly anticipated upgraded for MacSpeech Dictate Medical 1.5.
---

Product Highlights
More than 99% accurate out of the box
Over 90 medical specialty and subspecialty vocabularies
Customizable macros that save physicians time
Hidden dialogue box that streamlines navigation
Regional accent support that increases voice recognition speed
---
Why your practice needs Dragon Medical speech recognition:
Save time on dictation, navigation and editing
Reduce or eliminate the transcription services
Make time for more patients
Produce better patient records
Fulfill Meaningful Use criteria
Achieve higher reimbursement levels.
---

The Nuance PowerMic II
The PowerMic II is the ideal companion hardware for a voice-enabled EHR and the only microphone specifically designed for use with Dragon Medical speech recognition software. The process of dictation, navigation, review and editing are simplified with the PowerMic II as a result of enhanced ergonomic control buttons and tailored speech recognition settings. Recording quality is also optimized through the adaptation of an advanced microphone casing to support better accuracy and less need for corrections.
Call or email us today to learn more about how to create a complete solution that fits the needs of your practice and budget.