Overview
Dragon NaturallySpeaking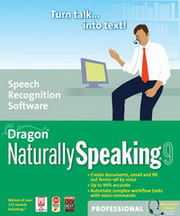 Dragon NaturallySpeaking from Nuance Communications is the industry leading Speech-to-Text software product for Windows based Personal Computers running the Windows Operating System. NaturallySpeaking can provide fast (120+ words/minute) and accurate (97%-99% accuracy within 10 minutes of installation for many users) automated dictation transcription on PCs running Windows 2000 or Windows XP.
NaturallySpeaking is currently being used successfully by Doctors, Attorneys and other business professionals (including Programmers and Medical Transcriptionists) to increase document accuracy while decreasing document turnaround time and document generation overhead expenses. NaturallySpeaking is also used by persons with upper extremity disabilities to compete effectively with their peers in the work environment.
NaturallySpeaking Product Comparison Matrix
Buy Now
VFAQ
(Very Frequently Asked Question)
If Speech Recognition works so well, why does it have the reputation of being a technological curiosity, or toy, that is not really "ready for prime time"?
From my experience there are 2 main reasons for this unfortunate and misleading perception:
Over the last 10 years the industry has had more than it's share of "business opportunists" who happened to see a Speech Recognition demonstration presented by someone who know how to use the software. After seeing the software operated properly these "opportunists" were convinced that "Speech Recognition" should be an "easy sell" just because its new, exciting, and actually works. Consequently, they became "Dealers" who focused on selling boxes. Unfortunately many never learned to use the software effectively or demonstrate it properly. Over the years the inept demonstrations and installations have created decidedly negative impressions that have last a long time for those that endured them.
Many new users find the software to be slow, inaccurate, and extremely frustrating to use because:
Some Speech Recognition programs WERE slow, inaccurate, and/or unproductive. (WARNING: Some are still unproductive, contrary to the labeling on the box.)
Inadequate or faulty hardware and misconceptions concerning how to use the software prevented the positive results that would otherwise have been achieved. In this area, minimum system requirements will generally yield minimum satisfaction due to marginal results.
It is of interest to note that none of the reasons have to do with the actual speech recognition products that have proven themselves over the last few years. During this period I have found Dragon NaturallySpeaking to have been the most consistent industry leader. But this is not just my opinion, NaturallySpeaking has earned more "Editors Choice" and other industry awards than any other consumer Speech Recognition product.

If you now have, or are interested in, using Speech Recognition software, it should be a positive and productive experience. If you have problems, don't give up, seek assistance.

---